Frequently Asked QuestionS
What is the Blue Chip Tracking System®?
The Blue Chip Tracking System® is the most advanced technology offered in the uniform industry. It is the "secret sauce" that enables Service Uniform to outperform any of our national competitors by assuring that we deliver the right garment, to the right employee, in the right condition each week. The Blue Chip Tracking System® is powered by RFID technology that utilizes a micro-chip to follow a garment and provide critical information to our company as well as the customer or the employee who uses the garment. The best way to learn more about our Blue Chip Tracking System® is to take a personal tour of our facility or have one of our representatives bring a virtual tour to you. After all, Service Uniform is not only the first company to have the Blue Chip Tracking System®, we are the only company in this market to have it.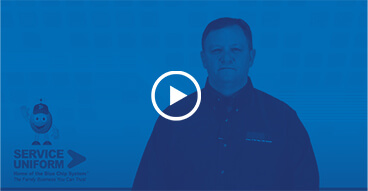 What are the Benefits of the Blue Chip Tracking System®?
The Blue Chip Tracking System® removes the common hassles the national uniform companies have with missing garments. Let's face it, if a company takes the time to design and offer a uniform, they want it worn professionally with pride. The Blue Chip Tracking System® helps track garments so that we can manage your look and ensure the correct garment is in great shape and available when you need it.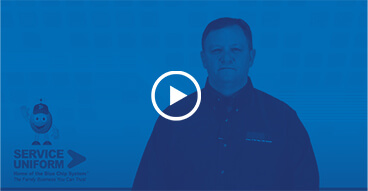 Where does Service Uniform Deliver?
What is the History of Service Uniform?
Dave and Barry Putegnat come naturally into the uniform business. Starting in 1906, their grandfather worked in the industry when items were delivered by horse-drawn buggy. In 1969 the Putegnat brothers knew they could make a progressive difference in the way uniforms were managed and started Service Uniform as we know it today. Their advances are evidenced through the Blue Chip Tracking System® and the customized programs Service Uniform offers.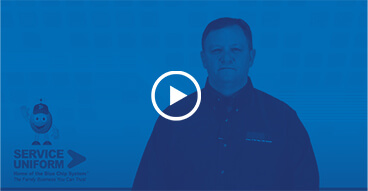 Is There a Guarantee with My Uniform Program?
Service Uniform has offered the strongest guarantee in the market for more than 20 years. We understand that Quality, Service and Response Time are of the utmost importance to our customers. Between our guarantee, processes, and systems, we are committed to deliver the highest quality of products and service to our customers. Now, doesn't that sound like the type of company you would want to do business with?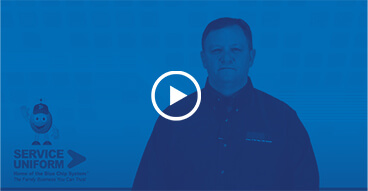 How Do You Handle Damaged Garments?
Service Uniform proactively inspects each garment, each week as part of our standard process. If garments are damaged by normal wear and tear, we will proactively replace or upgrade them at no charge to you as part of our standard service. However, Service Uniform also offers one of the most generous Damage Waivers in the industry. For only pennies per garment per week, we also cover all damages beyond normal wear and tear. After all, what good is a damaged uniform? We want you to look good! You are our best form of advertising.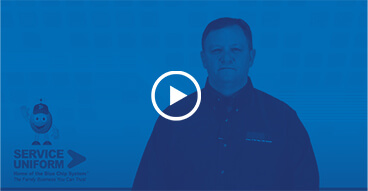 What is the Blue Chip Report?
The Blue Chip Report is "peace of mind" on a paper. It is the tool that gives you full access to your uniform account information. The Blue Chip report details which employees are using the laundry service and shows how many garments are picked up and returned each week. The report also identifies which garments are repaired, upgraded, and ordered with each delivery. Bottomline, you will never wonder what is "going on" with your account because we deliver the details each week with your uniforms and make them available online as well.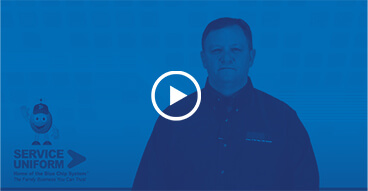 What Type of Customer Service Should I Expect?
Our customer service is second to none. Our goal is to have our customers do as little as possible while we manage your program for you. You should expect trained and certified representatives to help you every step of the way.
A certified Account Manager will manage your account during your weekly visit
Your Customer Relations Manager will provide a quarterly visit
Live Customer Service Representatives are just a phone call away from answering your questions outside of your weekly visit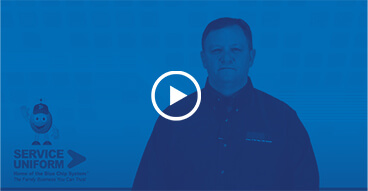 What Kind of Programs Does Service Uniform Offer?
Service Uniform offers full service rental and lease programs for uniforms, entry mats, towels and support products like dust mops, air fresheners and bottomless soap service. Each of these products is customizable with damage waivers, premier prep plans, loss protection and quality inventory maintenance. Since our packages are customized to your individual needs, the best way to fully understand them is with a comprehensive evaluation from one of our sales professionals.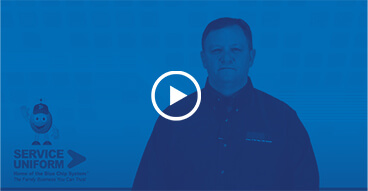 Why Should I Trust Service Uniform?
Trust is something that our family owned and operated business takes seriously. We have built our business around honest and fair billing, delivering great service, and consistent quality products. As an accredited member of the Better Business Bureau we subscribe to ethical standards and we back it up with our unmatched guarantee.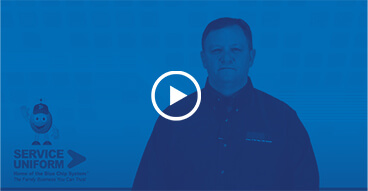 How Will Uniforms Make My Company Better?
Uniforms support companies in many different ways. They help build a brand as well as a "team atmosphere." They let your employees know that you care about them by providing comfortable, safe clothing with the benefit of laundry service if they work hard and get dirty. On the other hand, a JD Powers study revealed that loyal customers preferred to work with a uniformed employee because they were perceived as more knowledgeable. That alone may help you grow your business with a loyal customer base.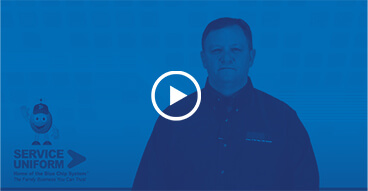 Contact Us and
Get a Free Quote!
Fast, Courteous Service Guaranteed