Summer Uniforms to Beat the Heat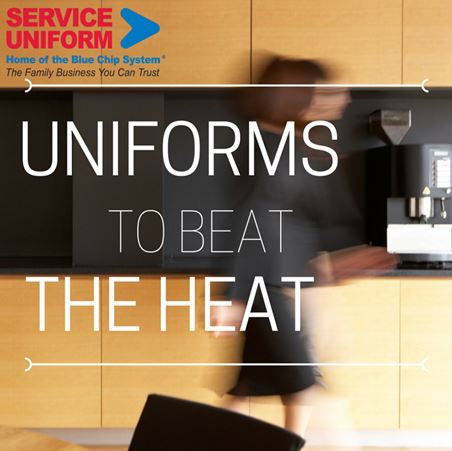 If your employees are exposed to heat in the Spring and Summer, it's important to keep them safe and happy with warm weather gear. Luckily there are so many options when it comes to choosing warm weather uniforms that suit your employees' needs, and your company's brand.
Fabric, style and performance are all contributing factors for why your business should opt for a different uniform in the summer. Though you may need to order a completely new style or fabric of a uniform, it is our priority to keep your company's brand looking as professional as possible.
Warmer weather calls for a number of different uniform options, all of which Service Uniform offers. Do your employees need direct protection from sunlight? A long-sleeve shirt may be your best option. Or, are you looking for a nice pair of shorts to give to your drivers? Finding a solution for your employees in Spring and Summer months can be as easy as calling up your Account Manager during your weekly service.
Direct contact with the sun, in the warmer summer months can be an enjoyable summer activity, but when it comes to working in the sun, there are safety factors to consider like heat exhaustion, sunburns and protection from excess sweat. Not to mention warmer weather brings out the grumpiness in people. With the proper uniforms, your employees will stay safe and will be able to manage their discomfort more easily.
Proper summer uniforms provide your employees safety while they work in the potentially blazing sun.  Service Uniforms offer a solution to blazing summer heat with a variety of options like Red Kap's Touch Tex™ II shirts and pants that offer permanent softness, moisture management, and durability. Consider a high-tech fabric that provides moisture wicking, quick drying capabilities and breathable materials. You may also find that a base-layer shirt to wear under a current uniform that provides the previously mentioned qualities may be all your employee needs to stay comfortable and productive during warmer weather.
The most important thing to consider when purchasing uniforms for the Spring and Summer seasons is attention to detail. Getting your summer uniforms right is imperative to your employees safety, physical and mental health. At Service Uniforms, we're dedicated to outfitting your business with the best uniform to fit your needs.